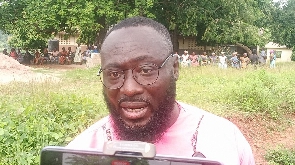 Kwasi Amankwaa, the parliamentary candidate for the National Democratic Congress (NDC) in the recently concluded Kumawu constituency by-election, has made allegations against university students, accusing them of demanding bribes.
Speaking on JoyNews' PM Express, Mr. Amankwaa claimed that the New Patriotic Party (NPP) engaged in vote buying, which influenced his chances of winning the poll.

According to Mr. Amankwaa, in their bid to retain the seat, the NPP distributed an amount of GH₵50.00 to voters.

He revealed that this illicit activity prompted some young individuals in the constituency, including tertiary students, to request cash from him in exchange for their votes.

"I encountered a few of these young people. There is a town called Banko in Kumawu, and approximately six university students approached me, saying, 'These people are giving money, we want to vote for you, can you match the amount they are offering?'" Mr Amankwaa disclosed this during the interview.

He went on to state that he declined their request, despite offering them more money than the NPP was providing, as his conscience would not allow him to engage in such practices.
Expressing his disappointment, Mr Amankwaa emphasized the concerning implications of these actions, particularly among the youth, who represent the future leaders of the country.

He said, "This is the future that we are looking at. Our future leaders are willing to sell their future for 50 cedis."

Despite the allegations and efforts made by the NDC candidate, the NPP emerged victorious in the Kumawu constituency by-election.

Ernest Yaw Anim of the NPP secured 15,264 votes, equivalent to 70.91%, while Kwasi Amankwaa of the NDC trailed behind with 3,727 votes, accounting for 17.29 per cent of the total votes cast.

You can also watch the latest episode of People & Places:




YNA/OGB