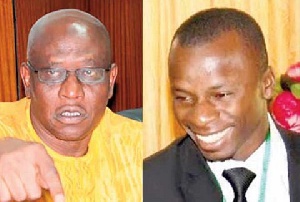 Emmanuel Korsi Senyo, who is said to be an activist of the National Democratic Congress (NDC) and initiated the removal of two deputy commissioners of the Electoral Commission (EC) from office, has vowed to commence the process for their prosecution.
Speaking on Joy Fm yesterday, Korsi Senyo said that he would lead a charge against Deputy Electoral Commissioners, Georgina Amankwa and Amadu Sulley, with a petition to the Inspector General of Police (IGP) and the Attorney General (AG) for their prosecution.

"I will be petitioning the IGP, of course, for their arrest and also petition the AG for their prosecution. There are serious issues at the EC that I think bother on criminality. The law must take its course. And I will not end there, but I will also petition the Auditor General to institute a forensic audit of the activities of the Electoral Commission," Korsi Senyo said.

Mr Senyo, who is believed to be a member of TEIN, the student wing of the NDC, petitioned President Akufo-Addo for the removal of the two Deputy Electoral Commissioners.

The petition was granted after a committee of enquiry set up by the Chief Justice, Sophia Akuffo, found the two top officials of the EC culpable.

The committee also found EC Chairperson, Charlotte Osei, culpable of procurement breaches, along with her deputies, and recommended their immediate removal from office.


The President, in accordance with the constitution, implemented the committee's recommendation.

Amadu Sulley, Deputy Commissioner in-charge of Operations at the EC, was cited for a number of infractions at the elections management body, including the illegal transfer of votes and embezzlement.

He has also been asked to refund some GH¢320,822 which went missing under his watch.


Mrs Opoku-Amankwa, who was in-charge of Corporate Affairs, was also relieved of her post for negligence and violation of procurement laws.

The report of the CJ committee indicted her for gross incompetence.

The crux of her infractions had to do with the signing of two multi-million cedi contracts which were deemed questionable, as well as the disappearance of endowment fund contributions.