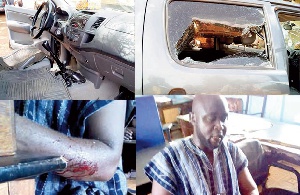 Information reaching DAILY GUIDE indicates that a group calling itself 'Aljazeera' boys and affiliated to the opposition National Democratic Congress (NDC) on Saturday attacked the Northern Regional Secretary of the NDC, Sualisu Be-Awuribe and other party executives in Tamale.
According to reports, the group attacked some constituency chairmen, who were holding a 'secret' meeting organized by Be-Awuribe at an undisclosed location in Tamale.

Reports said supporters of former President John Mahama and Minority Leader, Haruna Iddrisu, both of whom hail from the region, have clashed in recent times.

The violent clashes, DAILY GUIDE learnt, have to do with the upcoming elections for various positions in the party.

The regional secretary, who was subjected to severe beatings, bled from the mouth and nose while the windscreen of his official vehicle was damaged by the NDC hoodlums.

According to reports, the attack on the party secretary angered his supporters called 'Aluta boys' who also stormed the office of the regional chairman, Alhaji Ibrahim Mobila to destroy windows and some items.
A flat-screen television set and other items were also stolen from the office of the regional chairman.

There have been skirmishes between the Northern Regional Chairman of the NDC and the secretary for quite some time now.

Few days ago, the party's secretary wrote a letter to the party's executives for an expanded executive committee meeting but the regional chairman also wrote a counter letter to the executives to disregard the said letter by the secretary.

Alhaji Mobila alleged that the secretary had no power to call for such meetings.

Some party boys, who supported the decision by the regional chairman, threatened to disrupt the said meeting.
The confusion in the NDC in the region started when the Northern regional chairman of the party appointed some persons to carry out some functions which Be-Awuribe's supporters claimed was duplication of roles.

Reports said most of the newly elected executives did not support the chairman during the election.

Mahama reacts

The impasse between the two factions has attracted the attention of former President Mahama, who has called for calm and the use of dialogue to settle the problems.

Mr. Mahama, in a statement issued after the fracas, urged the rank and file of the party in the region to use dialogue to address the numerous problems.
In the statement, the former president, who intends to lead the party into the 2020 elections, said, "I am in touch with the Minority Leader, Haruna Iddrisu, and other Members of Parliament from the region who are working with the Council of Elders to resolve any impasse."

b>Northern Caucus<

The Minority Caucus in the Northern Region is set to hold a meeting today to settle the impasse between Alhaji Ibrahim Mobila and Sualisu Be-Awuribe.