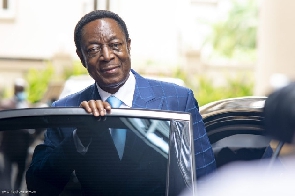 Flagbearer hopeful for the National Democratic Congress (NDC), Dr. Kwabena Duffuor has appealed to the grassroots of the party not to engage in politics of insults as the party prepares to elect its flagbearer on May 13.
He made this known after filing his Presidential Nomination Forms at the party's headquarters on Thursday.

Speaking at the party's headquarters, he said "Please don't insult anybody because of me. We are one people and we must show respect to each other."

He added that politics of insults does not help build a better political image.

The Former Finance Minister under the late Atta-Mills administration stressed that he will ensure the grassroots of the party is not neglected like before.

"Grassroots, forgive us. We have ignored you for far too long. We are begging you. This time around, we will not neglect you"

He assured the female supporters of NDC of some benefits when voted into office as President.
Dr. Kwabena Duffuor also mentioned that he will ensure that every constituency has a state-of-the-art office when voted as President.

He was optimistic that when given the chance as Flagbearer, he will not only secure victory for the party but also kick the elephant (New Patriotic Party) into the bush.

Dr. Kwabena Duffuor is among four members of the party contesting the Flagbearer position.

Receiving the nomination forms, General Secretary of the NDC, Fiifi Kwetey said "Let us remember that this party belongs to us and we have a common enemy."

"Let us be devoid of insults and let us be ready to support whoever the party chooses on May 13"

The General Secretary said he is confident that a united NDC will help kick the NPP from office come January 2025.