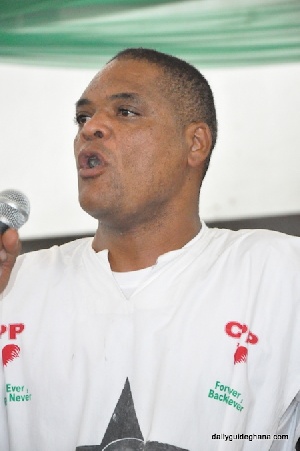 The 2016 Presidential Candidate of the Convention People's Party(CPP), Ivor Greenstreet has described as calculated political mischief the NDC's constant association with Dr. Kwame Nkrumah on their campaign trail.
According to Mr. Greenstreet, the NDC is deceiving Ghanaians by using the name – Nkrumah to gain popularity among electorates as election approaches.

Speaking in the Eastern region, the Flagbearer of the CPP said the NDC's claim of representing the dreams of Ghana's first President is a sham because they could only be said to be a "replica" of Nkrumah.
"NDC which is claiming to be Kwame Nkrumah's party has signed Economic Partnership Agreement(EPA) and that agreement will always make sure that we are slaves in our own country. So if NDC wants to tell you that they are for Kwame Nkrumah, I want to tell you that they are a replica. And you know when you buy something which is a replica within a short time, the replica thing will spoil.

"So I'm pleading with you it is only the CPP, the Cockerel party, which can rescue you and the fate of all Ghanaians come December 7, 2016."