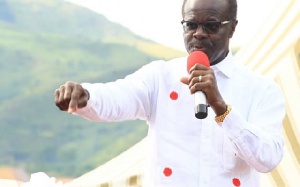 The flag bearer of the Progressive People's Party (PPP), Dr Papa Kwesi Nduom, has advised Northerners to punish the governing National Democratic Congress (NDC) government for ignoring them over the years by voting massively for the PPP in the December polls.
According to Dr Nduom, "terrible dangerous roads, disease-infected water when it is available, poor quality schools, prevalence of preventable diseases such as malaria, cholera, and meningitis, and unprecedented unemployment are what characterise the three northernmost regions".

"I have travelled to these three regions by road three times this election period and three more times this year for business. So I have first-hand knowledge about the terrible living conditions that exist there. I have thousands of employees there who live with preventable challenges daily," the PPP flag bearer posted on Facebook.

To that end, Dr Nduom has suggested that the people in the Upper West, Upper East and Northern Regions "channel their negative feelings into the December 7th elections and vote for Dr Papa Kwesi Nduom for president and all PPP parliamentary candidates. This will send a powerful message to the NDC and President John Dramani Mahama that they have been taken for granted for too long".
According to the business mogul, the PPP's practical experience-based strategy to focus on jobs will produce positive results the people can feel in four years.

"PPP leaders have proven that they can implement combined solutions of good quality education, disease prevention, world class infrastructure, and job creation in their private lives. They will bring their practical experiences to manage government funds effectively to solve the problems the people of the northernmost regions encounter daily," he added.