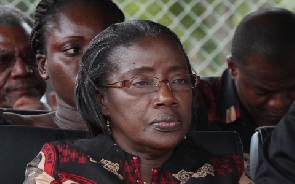 Lawyer and Energy consultant Kwame Jantuah has admonished the opposition National Democratic Congress (NDC) to send a high-powered delegation to Mrs Matilta Amissah-Arthur, the widow of the late former Vice President Kwesi Amissah-Arthur to find out from her what motivated her recent outburst.
An anguished former second Lady in her tribute to her late husband at the latter's funeral at the Accra International Conference Centre, (AICC) last Friday condemned what she described as the deliberate lies and wickedness against her late husband by some politicians.

She expressed shock at the show of love by her husband's detractors after his death.

"Over the last few weeks, I'm amazed at the number of people who have come to show us love and I ask myself is this Ghana, are all these people in Ghana? Because the maligning, the lies, the treachery, the wickedness, the deliberately changing things so that you could look better than others, the mischievousness, I ask myself is this Ghana?"

"I ask myself is this my own husband that people have come to pay tribute to and today I ask myself did people really know my husband, did they take time to know him, the false accusations, the lies, the maligning, did they know him? My dearest, me, Your Children, Kwesi, Maame Boatemaa, Yaw, Akyere, your grandchildren, Emily, Kwamena and Eleanor, we knew you and we know you and we know you're a real gem, and we treasure you and we're very proud of you."



Mr Jantuah who's also a leading member of the Convention Peoples Party (CPP) speaking on TV 3's New Day programme, strongly disagreed with persons who condemned Mrs Amissah Arthur's utterances saying, the widow appeared pained and it was good that she vented her feelings.
Nonetheless, he emphasized the need for the NDC to pay Mrs Amissah Arthur a visit to find out from her why she's so bitter.



"In the cultural sense if something like this happens, the elders of the house will go to the wife and ask Madam, why did you say what you said, what is the issue? and they'll try to make amends. I think one thing we should try and do and I think the onus is also on the NDC to now go to her, take a high-powered delegation and ask her Madam, the statements you made at your late husband's funeral what caused you to say that because we didn't see it coming. What is it? and then let the NDC also once they've been able to do that send it to government if it has got to do with things that government can help, send it to government so that we can resolve.



"We don't expect such a thing to happen again, all those in power now will die, ex President Kufuor will die, ex President Rawlings will die and we don't want a repetition of their spouses saying such things."