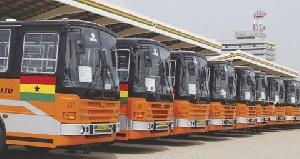 Deputy Minister of Transport, Nii Kwartei Titus-Glover, has revealed that the main opposition National Democratic Congress (NDC) owes the Metro Mass Transit Company GHS1.5m.
According to him, the party hired the buses for their campaign activities during the 2016 campaigns but failed to pay.

Apart from the party, he said some individual members of the NDC also hired the buses for their activities without paying.

This situation, he said, is making the work of the company difficult as it is faced with financial difficulties.

Mr Titus-Glover told Accra News on Monday, 8 January that efforts to get the party to settle the debts, have been futile.
"The NDC owes Metro Mass to the tune of GHS1.5 million, which is 1.5 billion old Ghana cedis. Aside from that, some individual members of the party also owe the company.

"They hired the buses for their campaign activities without paying. I called Kofi Adams, the National Organsier and told him that we needed to take politics out of this, and, so, I told him they hired Metro Mass buses for their activities and have not paid, and, so, they should pay but they have not paid as far as I am concerned."

The Tema West MP said: "This money can be useful to the company, it can be used to import more buses to grow the company."