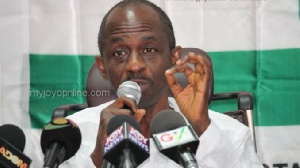 Thu, 29 Sep 2016 Source: classfmonline
The governing National Democratic Congress (NDC) has taken up the filing fee bill of all its parliamentary aspirants contesting in the December polls – a total of GHS2,750,000 – General Secretary Johnson Asiedu Nketia has disclosed.
General Mosquito, as he is affectionately called, revealed this to party supporters on Thursday September 29 as he accompanied Vice President Kwesi Amissah-Arthur to submit President John Mahama's nomination forms to the Electoral Commission.

"We want to assure all our parliamentary candidates that we are ready with the deposit for all the 275 aspirants of the NDC across the country. If you are filing your nomination anywhere in Ghana and you have a letter of introduction from the General Secretary that acts as an indication that your deposit has been provided for in Accra so, you don't need to worry yourself about the payment," he stated.

Mr Nketia advised party supporters to intensify their campaigns across the country to make sure the NDC retains power after the December polls.
"We recognise the fact that our colleagues in the NPP completed their parliamentary primaries only yesterday, so that is an indication that they are not ready for the elections. But we have been ready all along; all our candidates have complied with the rules. So, from today, the battle back to the Flagstaff House has begun. Go to the nook and cranny of the whole country and sell the good news to the people," he encouraged the gathering.

Meanwhile, tomorrow Friday September 30 is the deadline for the submission of nomination forms for both presidential and parliamentary nominees.
Source: classfmonline