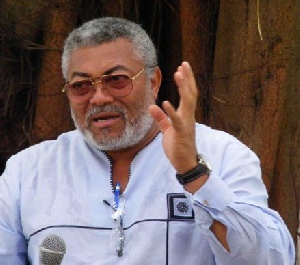 Former president Jerry John Rawlings has urged delegates of the opposition National Democratic Congress to have in mind the values and principles of the party, as they elect leaders for the NDC's youth and women's wings today, Saturday, 27 October 2018.
In a statement, Mr Rawlings said: "On the occasion of the National Delegates Congress to elect leaders of the national women and youth wings of the National Democratic Congress (NDC) in Gomoa Fetteh today, I urge candidates and delegates to endeavour to sustain the underlining values and principles of the party.

"The party was formed through the selfless sacrifices and integrity of gallant young men and women of this country. Women and the youth were the backbone of this history and still remain pivotal in shaping the future and destiny of our country.

"Let me reiterate the destructive effect of monetisation in our body politic and urge all delegates to resist any attempt to use money to override our true sense of judgement in selecting the right leadership we need for the party.

"The Congress and its leadership must protect the integrity of this process and discharge a true sense of leadership by rejecting those who lack genuine commitment and character to lead the party.
"Delegates must elect those who understand and appreciate the core principles of good leadership – integrity, patriotism, truth, loyalty, team spirit, accountability and respect for leadership.

"Let us demonstrate through the outcome of this Congress elections, that we have moved a step further in reorganising the party.

"My best wishes to all our candidates and delegates", he said.