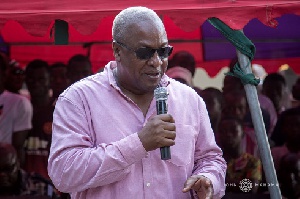 Former President John Dramani Mahama has urged delegates of the National Democratic Congress (NDC) to give a listening ear to all flagbearer-aspirants of the party.
According to him, it is only after listening to all the competitors that they would be able to make a better choice of whom should lead the party in the 2020 polls.

Mr Mahama said this to delegates in the Central Region as part of his four-day campaign tour which began on Wednesday, 26 September 2018.

He called on his colleague aspirant to avoid politics of insult since the eventual winner and losers will work together in their attempt to win the 2020 polls.


The Former President told delegates that: "We have done our branch, constituency, regional [elections] and in November, we'll be doing our national elections. In December, there'll be congress to elect a presidential candidate.

"Some of our brothers are also contesting. It is good we all compete because we have one mission, but let's leave it to the delegates to decide who leads the party.

"I'll plead that since we have one aim, politics of insults would not be necessary; we belong to one party. After the Congress, the victor and the losers will come together to fight for victory in the 2020 polls. So, my competitors will come, and when they do, please listen to them also and make your choice."