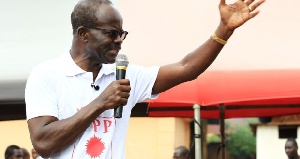 The governing National Democratic Congress' one-touch victory target in the 7 December polls is a mere dream, flag bearer of the Progressive People's Party (PPP), Dr Papa Kwesi Nduom has said.
"… All those people who keep saying that they are going one touch, they are dreaming. Not in this our country Ghana. Unless there is some massive rigging that goes on to steal people's votes away, but we are not going to sit there for any rigging to happen," Dr Nduom told journalists as part of his campaign in response to a recent assertion by Chief of Staff Julius Debrah that the grounds are fertile for a one-touch victory for President John Dramani Mahama and the NDC.

Crowning his five-day tour of the Volta Region with an 8-km health walk through the principal streets of Ho, Mr Debrah said a one-touch victory was in the air for the NDC.

"The fields are white, and, therefore, the need for the party to intensify its efforts at working for a one-touch victory."
"If Ghanaians gave former Presidents Rawlings and Kufuor eight-year terms, why not President John Dramani Mahama?

"The grounds are fertile, the fields are white, we, therefore, need to double our efforts at working hard to make a one-touch victory a real possibility," Mr Debrah added.

He said Mr Mahama was a "man of his own words who is honest, determined and committed to continue with the transformation and change agenda".