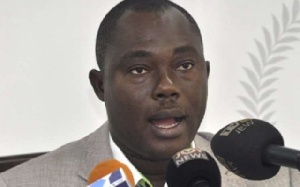 The arrogant posture of some of the communicators of the National Democratic Congress (NDC) even in opposition, if not checked, will keep the party in opposition for a lengthy spell, Professor Ransford Gyampoh, a senior lecturer at the Political Science Department of the University of Ghana, has warned.
According to him, it appeared some communicators of the main opposition party had not shed the arrogance that culminated in their party's exit from government following last year's polls.

Speaking on the recent recriminations within the NDC over who caused the party's loss in 2016, Prof Gyampoh, in an interview with Class 91.3FM's Emefa Apawu on Thursday March 23, said: "The NPP as a political party in government is just about implementing its campaign promises and if they succeed in doing so very well, the NDC will have a difficulty, they will remain in opposition for long.
"Before the elections of 2016, there were so many allegations of corruption that were levelled against some party officials of the…NDC and I am sure the NPP will put in place measures to investigate some of these allegations and send people to jail. The more party officials and appointees soil their image by being found culpable of corruption, the longer the party will remain in opposition.

"Again, listening to some party communicators, it appears they do not seem remorseful of their display of arrogance in their public utterances that contributed to their defeat. The more they go this way, the longer they will remain in opposition. So, in my view, there are so many things that are now currently working against them and there are so many things that they will have to work hard to surmount. They cannot afford to allow some of these comments coming from some top echelons of the party to also deepen the cracks and inflame passions against the party structures."