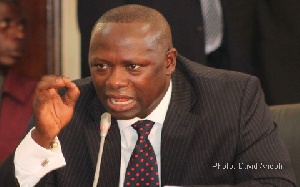 Mon, 11 Mar 2019 Source: Daniel Kaku
The National Democratic Congress (NDC) will soon be returning to government despite the painful exit in 2016
The chances of the party though would have to be determined by the Ghanaian electorates, the NDC believes following an impressive performance showcased in government, the electorates will give the party another chance to wrestle power from New Patriotic Party (NPP)

The Member of Parliament (MP) for Ellembelle Constituency in the Western Region, Emmanuel Armah Kofi Buah made known the chances of the party when he addressed guests at an awards ceremony organized by COGA in partnership with BORGA at the Accra International Conference Center over the weekend.

The former Minister for Petroleum was asked by the Master of Ceremony at the event Kweku Temeng of GhOne television, as to when the NDC will come back to government, and his answer was affirmative that sooner than later the NDC will bounce back in government.

The question was part of a brief remark he made when he picked up an award as one of the most influential MP's in the country at the ceremony.

Emmanuel Armah Kofi Buah served as Minister for Energy, and subsequently Petroleum under the administration of President John Dramani Mahama
He has been credited to fixing Ghana's power sector challenges including the power outages that plunged the country in darkness for many years and affected social and economic activities uncontrollably.

The former Minister has also been credited for championing the formulation of policies and programs that shaped the country's oil and gas sector through the introduction of the required legislation, the gas master plan, gas infrastructure and promotion of use of LPG through free cylinder distribution to offer clean energy in rural Ghana in place of wood fuel as part of conservation of the country's forestry cover.

In his constituency, he earned the nickname Action Man, for responding proactively and productively to pressing challenges serious confronting communities and hampering development.

His development programs in the constituency cover health sector, education, local economic empowerment, social issues among others.

The Confederation of Governance Assessment Institute (COGA) in partnership with the Bureau of Research on Governance, Commerce and Administration (BORGA) and the selection committee of the Pan African Republic Honorary Awards presented the award to the MP.
Before the presentation of the award to the deserving Member of Parliament, Prof Victor K. Yankah, Director General of COGAI, explained the purpose of the awards scheme and indicated that it was primarily to reward hardworking Ghanaians contributing their quota to national development.

He said this year marked the fourth in the series of the awards being organized together by the two institutions mentioned above.

He said it was to recognize performance in the public sector towards development of the country, hence the inclusion of independent MP's eminent personalities, "who selflessly served the country".

He said Ghana has been positioned by the awardees who are virtually presiding over social and economic activities in the country for present generation and posterity.

"Everything done today by these public and private sector workers, he noted is primarily for present and future generations", he said.
He asked for peace and security, which he underscored had been secured by previous public servants and ought to be jealously guarded and guided by current ones.

He condemned the invasion of the media landscape in Ghana by insidious foreign culture through their movies and other social enterprises.

To this end, he called on Ghanaian authorities to rethink, chart a new course in order to deal decisively with the growing trend of cultural manipulation with social and traditional media.

He again asked for discipline in the Ghanaian society which he emphasized required all hands on board and above all serious attention.
Source: Daniel Kaku