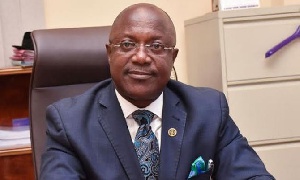 The National Identification Authority (NIA) has dismissed claims by the General Secretary of the opposition National Democratic Congress (NDC), Johnson Asiedu Nketia that the Authority has accepted the Voter ID card as one of the mandatory registration identity documents in the ongoing registration in the Adentan Municipality.
Mr. Asiedu Nketia, who is being challenged by his deputy, Koku Anyidoho, for the General Secretary position, made the comments on Saturday at the Trade Fair Center where about 8,500 NDC delegates from various parts of the country had converged to vote.

But NIA, in a release signed by its Head of Public Affairs, Francis Palmdeti, said the claims by Asiedu Nketia are untrue.

According to the statement, contrary to claims by the NDC man, by law, the voter ID card is not one of the mandatory registration documents, and that it was not being accepted by NIA registration officials as proof of citizenship or eligibility to register for the Ghana Card.

It stated that "for the avoidance of doubt, the NIA's position is in strict compliance with Section 3 of the National Identity Register (Amendment) Act, 2017 (Act 950) which specifies the mandatory identity documents for registration as (a) a birth certificate, (b) a valid passport and (c) a valid certificate of acquired citizenship."

"Under the law, a Ghanaian, who has none of these documents, can have one relative, who has registered and been issued with the Ghana Card, vouch for him or her as a Ghanaian, or in the absence of a relative have two Ghanaians issued with the Ghana Card vouch that they know him/her to be a Ghanaian," it said.
NIA registration officials have been trained and instructed to strictly comply with this statutory provision, the statement revealed, adding that "thus far, NIA management has no reasonable basis to believe that the law is being contravened by its officials."

It added that "any acceptance of the Voter ID card as one of the mandatory registration documents and hence eligibility to register for the Ghana Card would constitute a violation of Section 3 of Act 950, and any person found to have done so would be made to face the full rigours of the law."

"For purposes of integrating and harmonizing the National Identity Register with the databases of other cognate institutions in the country, the law requires all applicants for registration for the Ghana Card to present all valid ID cards they possess which were issued by the following state institutions: Electoral Commission, National Health Insurance Authority, Ghana Revenue Authority, Driver and Vehicle Licencing Authority, as well as Social Security and National Insurance Trust. Electronic copies of these other ID cards are taken and the originals returned to the applicant.



According to the statement, "The law also requires an applicant who has a Tax Identification Number (TIN) to present to NIA registration officials the document evidencing the TIN; the officials will record the TIN and return the document to the applicant."
"It's probable that Asiedu Nketia is confusing the mandatory registration documents with the requirement for applicants to present other ID cards for database integration and harmonization, it added.

It said, "Under Act 950, the ID cards issued by the EC, NHIA, SSNIT, DVLA, etc, are not registration documents and do not establish eligibility to register for the Ghana Card."

It said "indeed, an applicant could have these other ID cards and still not be eligible for registration without providing either a birth certificate, a valid passport or a valid certificate of acquired citizenship, or being vouched for in accordance with Section 3 of Act 950."

It indicated that "the NIA is a creature of statute and will strictly comply with laws governing its operations."