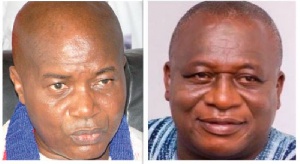 Pollster Ben Ephson has said that there will be covert operations from failed aspirant of the New Patriotic Party(NPP) Chairmanship race, Alhaji Short against the success of Mr. Stephen Ntim in the upcoming polls.
He's convinced the rift between the two individuals will not go to rest even as, Alhaji Short has withdrawn from the contest, insisting the latter and his followers will at all cost campaign against Mr. Stephen Ntim.

As a consequent, he predicted that, the long-held dispute between Stephen Ntim and Alhaji Short, will benefit the incumbent Chairman and aspirant Freddie Blay.

Supporters of Mr Ntim and Alhaji Short have been at each other's throat as part of their struggle for power within the governing party hitherto his withdrawal from the race.

Speaking on Anopa Kasapa on Kasapa 102.5 FM Friday, Mr. Ephson said although Short may have unvoiced thoughts regarding his direction in the race, he'll definitely not campaign for Ntim as a result of their dispute.

"The secret recordings of Stephen Ntim that was leaked in the lead up to the race will influence the game. If this had not come out, it'll be very likely that majority of Short supporters will go for Ntim. But as it stands now Short is an experienced politician and he'll know the keys to play in bringing Ntim down." Ephson told host Kwaku Owusu Adjei Friday.
There has been reports that alleged that the Presidency prevailed upon Alhaji Short to step down and throw his weight behind Acting Chairman of the party, Freddy Blay.

A meeting was said to have been held at the seat of government Sunday afternoon between President Akufo-Addo and Alhaji Short, where the decision or order for him to withdraw was communicated to the latter who reportedly was unhappy.

The reports said the President's meeting with Alhaji Short, was preceded by another meeting with high ups in the government to prepare Alhaji Short for the eventual meeting with the President.

Those in the said meeting included Minister of Interior, Ambrose Dery, who hails from the same region as Alhaji Short; Gabby Otchere Darko, a close relative of the President who is believed to be very powerful but holds no official position and is believed to be the brain behind the decision, and lastly was a high-ranking presidential staffer, Lord Commey.

National Chairmanship aspirant, Alhaji Abubakari Abdul Rahman, popularly known as Alhaji Short, on Thursday, May, 31 stepped down from the chairmanship race saying he took the decision to withdraw from the race after long introspection and consideration, a move he believes is in the interest of the party.