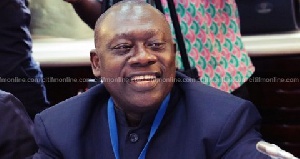 New Patriotic Party (NPP) Member of Parliament for Akwapim South Constituency Osei Bonsu Amoah says the government may not have the luxury of time in triggering the process to have a new Chair for the Electoral Commission, Ghana (EC).
He said with the removal of Charlotte Osei and two other commissioners and an impending mandatory retirement of one other before 2020, when the general elections will be held, the current Commission will find it difficult to take a decision given the lack of quorum.

Mr Amoah was speaking on TV3's New Day on Saturday during a discussion on Thursday's decision by President Nana Akufo-Addo to remove Mrs Osei, Georgina Opoku Amankwaah and Dr Amadu Sulley from office.

The decision was taken by the president on the recommendation of a five-member committee tasked to look into some allegations leveled against the three commissioners.

The committee was constituted by the Chief Justice, Sophia Akuffo.

Among its recommendations was that Mrs Osei breached the Public Procurement Act in the award of some contracts during her tenure.

Even the engagement of solicitors for the Commission was questioned.
Speaking on the issue, Mr Amoah, who is a Deputy Minister of Local Government and Rural Development, said the issues that reared up their head during the investigations were more stinking than those traded in public and he would have wished it was telecast live to the public.

"It was more than a trial," he observed.

He said the indicted officers were well-grilled by the committee.

'We are going to see'

But he said, after all, said and done, there is a vacuum left at the EC and it behoves on the president to begin the process to get that filled before the next elections.

According to him, aside the three out of seven commissioners removed from office, one other will retire soon, leaving only three, who may not be legally backed to take decisions, he argued.
He, therefore, called for immediate steps to have a new EC selected.

This the National Organiser of the National Democratic Congress (NDC), Kofi Adams, who was also on the programme, said will test the disposition of President Akufo-Addo.

He noted that the president's mettle will be tested with the new selections as he was among those who raised concerns in the selection of one commissioner, Mrs Osei in 2015.

"We are going to see how he is going to go about appointing four persons."