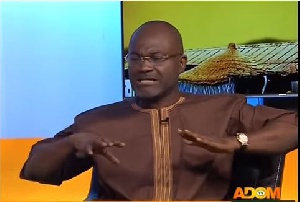 New Patriotic Party (NPP) firebrand, Kennedy Agyapong has accused functionaries of the New Patriotic Party (NPP) and the opposition National Democratic Congress (NDC) of grabbing state vehicles at giveaway prices.
He observed that the situation is not peculiar to only the NDC government but the NPP as well proposing that the only way to ending a repetition of this age-old practice that has characterized past and present governments is for Akufo-Addo administration to do away with the auctioning of state vehicles.

The Assin Central lawmaker who claims to have classified documents containing a list of former appointees who purchased state vehicles cheaply disclosed that both NDC and NPP cannot claim to be angels when it comes to grabbing state vehicles at cheap prices.

"I have further and better particulars that show deals of all the vehicles that were sold cheaply to suppliers by the Mahama administration and the NPP as well. Most of the vehicles were sold off without payment to the appropriate accounts I want President Akufo Addo to immediately scrap the process since it amounts to corruption", he appealed.

According to him, some elements in the presidency have gained notoriety in spearheading the auctioning process which invariably undermines President Akufo Addo's administration.

"This system of government officials buying cars at a cheaper cost is worrying. Why should you engage in such illegality? I think it should be scrapped. The buying of cars by these government officials should be scrapped immediately" he charged.

Last week, Chief Executive officer of Public Sector Reforms, Mr. Kusi Boafo, alleged the Mahama government bought cars at expensive prices and sold them weeks later back to the suppliers at low cost.
He alleged that former President Mahama and the former Chief of Staff under the erstwhile Mahama government, sold over 376 such state vehicles to themselves, friends, and cronies at cheap prices.

He bemoaned how customized state vehicles with special features that were 14-days old were doled out to chiefs, religious leaders, Journalists and even politicians at giveaway prices citing instances where a teacher paid about GH¢50,000 for 6 of such cars.

Revealing how the cartel operated at the time, he said the vehicles were procured from the open market through an automobile company and added to the Presidential pool but at a cost of $165,000 each for a Landcruiser but same in a matter of between 14 days to three months was auctioned back to the same company or a different one for as low as $2500.

"The automobile company then takes the vehicle and sells it for GH¢400,000 in the open market, brings the money and it is shared among those who engaged in the deal. The leadership of the former government is terribly bad, the former government didn't help build the nation", he lamented on Kessben TV in Kumasi.

Former Chief of Staff, Julius Debrah has however described the claims as baseless and unfounded daring Mr Kusi Boafo to substantiate his claims or meet him in court for a legal tussle.