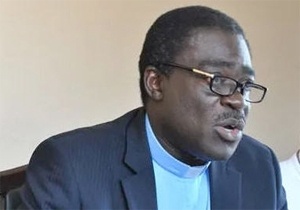 Mon, 16 Jan 2017 Source: GNA
The Reverend Dr Kwabena Opuni-Frimpong, General Secretary of the Christian Council of Ghana, has advised the ruling New Patriotic Party (NPP) and the main opposition National Democratic Congress (NDC) to allow Ghana's democracy to grow.
"We must allow our democracy to mature and, here, we appeal to the two leading political parties; NPP and NDC, that they must allow our democracy to work," Rev. Opuni-Frimpong said in reaction to the brouhaha that characterised the transition process from the NDC Government to the NPP Government.

Rev. Opuni-Frimpong said all those issues had direct bearings on Ghana's democracy and that the best solution was to allow democracy to grow by "accepting to heal the wounds of the past. Heal the wounds of our history".

Speaking to the Ghana News Agency (GNA) in an interview in Accra, Rev. Opuni-Frimpong said: "What NPP was complaining about yesterday the NDC is complaining about today and this does not augur well for Ghana's democracy".

"People are carrying yesterday's pain into what they are doing today. And we must know that what we are doing to people today, tomorrow somebody will also do it to us," he said, adding that the way to go was to accept to heal the wounds of the past.

He said instead of transferring pains and wounds, the parties must rather try to heal them bearing in mind that Public Service was bigger than personal comfort.
Rev. Opuni-Frimpong noted that President Nana Addo Dankwa Akufo-Addo is the President for all adding; "since the 2016 Elections are over, the Government must count all and bring everybody onboard and govern.

He, therefore, urged President Akufo-Addo to come out to condemn the acts of seizures of state properties and institutions by alleged followers of the NPP at the district and regional levels.

"The Government and the party must distant themselves from the act and warn their rank and file to stop the takeovers," he said.

Rev. Opuni-Frimpong said the Police must be allowed to work as democracy thrived under law and order.
Source: GNA