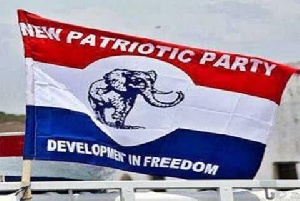 Led by its Chairman, Akwasi Anti Asamoah, the decision-makers of the New Patriotic Party (NPP) in the Fomena Constituency are set to once again, make their Member of Parliament a one-timer.
If it happens, Lawyer Andrews Asiamah would be the third legislator in a row who represented that constituency only once in Parliament since 2008.

It however appears to be a foregone conclusion as the over 300 delegates, together with the constituency executives in Friday, openly vouched for Philip Ofori Asante a.k.a POFA as the man to beat in the upcoming Parliamentary Primary in April.

They cited among other things, "disunity, disrespect for the grassroots, an attempt to tamper with the voter album and a long drawn legal tussel" all brought upon the rank and file by the incumbent MP as some of the reasons they would have him ousted from Parliament during the primaries.

"This MP is very dumb; I will resign from the chairmanship if he is able to get 40 votes at the primaries; if he tries to influence the delegates with money, then I'm ready to pay GHC 15,000 if he gives them GHC 5000", Chairman Akwasi Anti Asamoah, told the press on Friday.
On his part, Philip Ofori Asante who had gone to submit his nomination forms to contest in the primaries described the Fomena Constituency as one "without an MP", reason, according to him, it is lagging behind in terms of development.

He pledged to submit himself to working for the good of the party and the constituents if he gets the nod to represent the NPP in the 2020 Parliamentary Elections.

Since 2008, the Fomena Constituency, a stronghold of the ruling NPP has changed its Member of Parliament, consequent to the party's parliamentary primary.

Hon. Abu Bonsra, who won the seat in 2008 was ousted at the primary of 2011 to make way for Hon. Atta Boafo; in 2015, he also lost at the primary to Lawyer Andrews Asiamah, now the incumbent MP, who is now also close to falling to the delegates' dagger.n