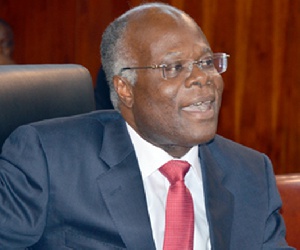 The contender to the Adanse Asokwa parliamentary seat Samuel Binfo Dakwah has said he cannot wait to give the incumbent K.T. Hammond a thrashing defeat on Saturday.
"I shouldn't get anything less than 70%. I am going to whip him and whip him proper," Binfo told GHOne News' Isaac Bediako Justice.

Some 434 delegates will determine the results of the heated Parliamentary Primaries of the New Patriotic Party in the Adanse Asokwa constituency by end of polls Saturday.

The straight fight between the relatively new candidate Binfo and the four-time Member of Parliament K.T. Hammond has been nothing less than dramatic.

While Mr Hammond appears to have lost favour with delegates and regional executives of the party, Sammy Binfo has gathered some considerable storm behind his sails.
Mr Binfo discounted the effect of an alleged meeting held between the Assin Central legislator Kennedy Agyepong and delegates to influence votes in favour of Mr. Hammond.

He contended: "We are not going to prevent anybody from accepting any gift from anybody. Whatever they bring take it because after 20 years in parliament, the man is just about leaving so you are just collecting ex-gratia. So collect it and just decide who you want to vote for."

Mr K.T. Hammond is, however, unsettled yet. He told Bediako there is a deliberate plan to destabilize his constituency to make him unpopular.