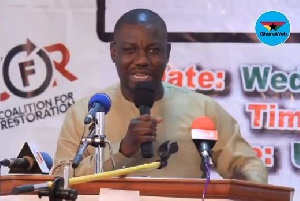 Member of Parliament for Bolgatanga Central, Isaac Adongo wants the Central Bank to chase Prudential bank for its 2017 audited Account insisting the bank is likewise a struggling financial institution that must also be axed by the BoG.
"There is a bank in Ghana that funded NPP campaign with GHS 2 million, and that bank should show us their 2017 audited account. We've not seen their audited account till date. In fact they have serious liquidity problems than BEIGE bank and it's on the verge of collapsing. Why is this bank still operating and some others have been collapsed? " Adongo questioned on Kasapa 102.5 FM Thursday.

The governing NPP hitherto has been battling its critics after a leaked document from Prudential Bank revealed the party obtained the sum of ? 2,290,631.36 million loan facility to fund its 2012 campaign.

The money was not paid three years after the NPP lost the 2012 election to the outgone National Democratic Congress (NDC) government.

The Bank wrote to the NPP demanding for the payment of the money, but Mr Ofori-Atta responded saying the loan was a private business transaction he did with the bank. He said the NPP had no part to play in the application of the loan.

"I am personally liable for any obligation that arises from this transaction and not in any way the New Patriotic Party", he said in a response to the bank in 2015.

According to him, the facility was secured to complement resources the Finance Committee had raised to support the operations of the party's Polling Agents during the elections.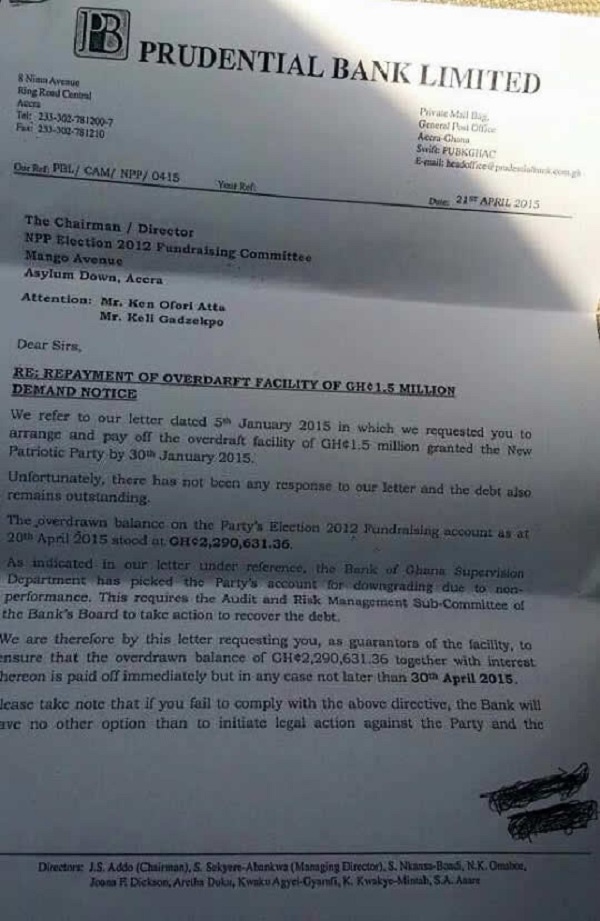 The Prudential Bank letter addressed to Mr Ofori-Atta in 2015

He said as the Chairman of the NPP 2012 Presidential Campaign Finance Team he had contracted and Guaranteed for purposes of the elections, adding this has nothing to do with the party.

But several years down the line, Mr Ofori-Atta who is one of the respected entrepreneurs in Ghana disclosed to members of the Parliamentary Appointment Committee the money has been paid to the bank.

He said it was paid in December 2016, the month the NPP was declared winners of the presidential poll by the Electoral Commission (EC).

Following the murky issues emerging in the financial sector, Adongo has called for equity of treatment asking the Central Bank to as well set its radar on weak financial institutions notwithstanding their affiliation to the current regime.
"Are they better than the others that are no more? We have to stand against this injustices in the banking sector." Adongo said in an interview with host Kwaku Owusu Adjei on Anopa Kasapa on Kasapa 102.5 FM.

Adongo accused the Finance Minister and his assigns of merely conspiring to collapse Ghanaian banks to favour his course.

"How can 75 year old man struggle all his life to build an empire and you come to power to collapse it because of your parochial interest. A person you couldn't compete with several years in private life, and because you've come to power, you collapsed the person's job with the stroke of a pen just to take over the competition, this should not happen to us in this country.



He continued:"I warned Ghanaians that when they started and we saw Ken Ofori Atta's assigns being appointed onto the BoG board and the Security and Exchange Commission(SEC), I wrote and told the people of Ghana that by the time he finish the regulatory architecture, Ken Ofori Atta would have been the biggest threat to Ghana's financial market; you didn't believe me. Now you see the BoG and the SEC are in bed and collapsing Ghanaian banks."