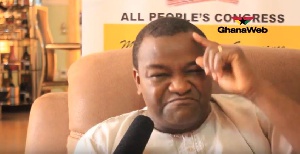 Hassan Ayariga, founder and leader of the All People's Congress (APC) has accused the main opposition New Patriotic Party (NPP) of hacking EC's website which has consequently caused the delay in the declaration of the election results.
The APC leader made this allegation in an interview with Nana Aba Anamoah on GHone TV, stressing that the NPP is responsible for the reported hacking of the EC's website.

"The NPP hacked into EC's website to change figures in their favour, that is why they are claiming to be winners which is a blatant lie," he claimed.

"Everything is possible so if there's an attempted hack, then just as the rule of law will term an attempted murder is a murder, this hack attempt is deemed criminal, and punishable by jail term," He fumed.
Mr. Ayariga on the same count criticized the media for wrongfully projecting the opposition leader Nana Addo Dankwah Akufo-Addo, as the victor in this year's election which in his (Hassan Ayariga)'s estimation is untrue.

He continued, "what I want in this country is a peaceful election, that is why I'm asking the media to refrain from announcing results of the presidential elections prior to the EC's declaration because this election is very crucial."