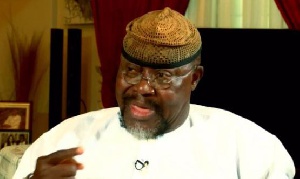 A founding member of the governing New Patriotic Party (NPP) Dr. Nyaho Nyaho-Tamakloe has revealed that members of the party including its leaders' troop to businessman Ibrahim Mahama for financial support, despite attempts to bring his business down.
According to the former Ghana Ambassador to Serbia, who's an Uncle to Ibrahim Mahama, the public will be stunned if he should put out the names of some big politicians who have benefited from the young successful business magnate.

There is a perception among a section of the public that the Ibrahim Mahama who supported his brother's Presidential bid is being persecuted by the NPP government in a bid to collapse his business ever since the party assumed power.

The Akufo-Addo led administration in 2017, revoked a multi-billion cedi bauxite concession granted to Ibrahim Mahama's company at the tail end of his brother, John Dramani Mahama's presidency in 2016, contending that the lease granted Exton Cubic was invalid.

In 2017, Mr Ibrahim Mahama was invited by the Economic and Organised Crimes Office (EOCO) and questioned severally over some dud cheques he issued to the Custom divisions of the Ghana Revenue Authority (GRA) at the Tema ports to clear some heavy duty equipment he imported into the country. An action, a section of the public saw as part of the persecution.
Speaking to Bola Ray on Starr Chat on Starr FM, Dr. Nyaho Nyaho-Tamakloe has always jumped to the defence of his nephew stated that members of the NPP cannot be secretly benefiting from Ibrahim Mahama's kindness when his businesses are being sabotaged by elements in the same ruling government.

"I should be concerned about the welfare of my own nephew [Ibrahim], so when people talk about Ibrahim and what not it makes me laugh. I've said time and again that if I will disclose names of people who come to him for assistance…members of my party including leaders. But you know I'm not a small boy to talk loosely, I know what I'm talking about.

He added: "They should leave that boy alone to do his business, he's not a politician, he has no interest in politics, what he wants to do is to make sure that he has a good business and the boy is so clever he knows what he wants and how to handle business issues. We took a concession [bauxite] and gave it to a Chinese, what a ridiculous thing that can be done by particularly a government like NPP who wants to promote private enterprise. I mean its shameful, you give it to a chinese and we'll see what the Chinese will come out with. Roads? roads can be built by Ibrahim, he can build dams, that is his work and he has the machines for that."

"…Even he was honoured recently in the House of Parliament in Britain, so what again. Why shouldn't they get off the back of that young man so that he can climb his height? But all that they are doing definitely they'll fail."