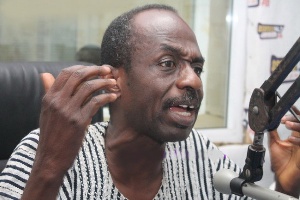 The General Secretary of the opposition National Democratic Congress (NDC) Mr Johnson Asiedu Nketiah is urging Ghanaians to prepare for terrorism in the country.
The deeds of the delta force is the beginning of terrorism in Ghana, he stated.

According to him, the seeming untouchable nature of the delta force is as a result of their possession of more arms than personnels of the National Security.

General Mosquito as he is affectionately called said this in an interview with Yaa Titi Okrah Yangy on Ghana Te Sen this morning (Friday).

He alleged that, the NPP has adequately trained members of the delta force, provided them with ammunitions needed which has given them more strength over the police.

The delta force, a vigilante group linked to the NPP stormed the Kumasi Metropolitan Assembly Circuit Court where there was an ongoing trial of 13 members of the group. The judge Mrs Mary Nsenkyire remanded them in prison to continue the case on the 20th of April this year.

Some other members of the group stormed the court, caused some destruction. They later released the 13 who had been remanded and headed to the Ashanti Regional NPP headquarters.
Assin Central MP, Ken Agyapon in an earlier interview said the group is untouchable and will lead a demonstration against any leader who order their arrest but has turned back on his words by condemning the delta forces for their recent attack at the court.

But Asiedu Nketiah said, the NPP is behind all the acts by these groups with massive support from the likes of Ken Agyapon. This he said is the reason the police are unable to deal with them accordingly.

Responding to the IGP Asante Appiatu's comment on not foreseeing these act by the group he said his policing is ineffective because all the signals were clear and he should have noticed earlier especially in his capacity as the country's Inspector General of Police.

He also stated that, the NPP cannot deal with the upcoming surge of the Delta Forces.

On the same platform, a member of the Occupy Ghana, a group known to be watch dogs of the actions of the government on situations as this, Kweku Segbefia said the actions of the delta forces in the Ashanti region has reached their notice and condemn it immediately.

He hoped that they will be arrested and face the law adequately.