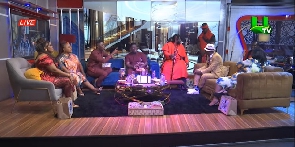 The National leadership of the New Patriotic Party (NPP) has called on the management of the United Showbiz show to reform their programme to ensure fairness in the submissions of panelists.
The leadership of the NPP noted that submissions by panelists on the United Showbiz programme tend to spite and lambast government most of the time.

The party said this trend has become a recurring pattern that raises questions about the motive of the show.

It also disclosed that there is an unwarranted surge in disparaging comments aimed at President Nana Addo Dankwa Akufo-Addo and subjected Vice President, Dr. Mahamudu Bawumia to ridicule and criticism in its recent episodes.

During the Show on Saturday, September 23, 2023, artiste manager, Bullgod read the details of the letter that was delivered to the leadership of the United Television (UTV).

"I have been directed by the leadership of the New Patriotic Party to draw your attention to some recent observations we have made regarding the primetime program United Showbiz. Currently, United Showbiz appears to be operating as a platform that serves the interests of the opposition National Democratic Congress (NDC).

"It is evident to any discerning viewer who has followed the program in recent weeks that its content has significantly deviated from its original purpose and relevance after every remark. The program now frequently features intemperate language, unconstructive rants, and outright insults at the presidency by panelists," portions of the statement read according to Bullgod.
"This has become a recurring pattern that raises the question of whether the show has inadvertently transitioned into a political talk show. If such a transformation is indeed the case, it is imperative to address the imbalance in representation granting the New Patriotic Party (NPP) a fair and equitable platform to ensure objectivity, fairness, and equity.

"In upholding your station's duty of care towards the public, it is incumbent upon the management to facilitate equal representation rather than turning a blind eye to this issue.

"It pertains to maintaining respect for the presidency and the sense of responsibility towards one another.

"The United Showbiz program has in recent times witnessed an unwarranted surge in disparaging comments targeted at the President, which has raised concerns among a section of the populace. The program subjected the vice president, Dr. Bawumia, to ridicule and criticism in the last few episodes," Bullgod read as stated in the letter during the United Showbiz show.



BS/SA