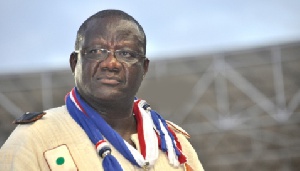 Suspended National Chairman of the New Patriotic Party Paul Afoko has slammed the party's decision describing it as illegal and a clear breach of the party's constitution.
Afoko, who is making a first public statement since his suspension over a month ago, said at a press conference Wednesday that the NPP is on a slippery slope to self-destruction.

According to him, "NPP's blatant disregard for the party's constitution is alarming...I have watched my party slide down the slippery slope into destruction…our party is in danger."

Mr. Afoko was suspended last month by the National Executive Committee of the NPP for disrespecting the Party's Disciplinary Committee and working against the party's interest.
He petitioned the National Council of the Party but the council subsequently affirmed the decision to suspend him.

Mr. Afoko speaking at the Press Conference said the procedure used to suspend him was completely against the set out rules in the party's constitution. He added that the petition based on which he was suspended was "baseless" and should have been thrown out.

Flanked by the second vice chairman of the party Sammy Crabbe, who has also described Afoko's suspension as illegal, Afoko said he was elected by over 5,000 delegates of the party and swore an oath to protect the party's constitution and is ready to fight his suspension.