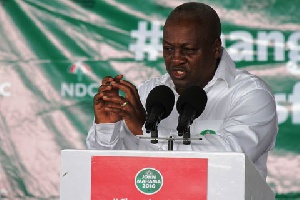 President John Mahama has expressed sadness over how, in his assessment, members of Ghana's biggest opposition party rain insults on one of their own – ex-president John Kufuor.
According to him, such "uncultured" behaviour is "unacceptable" in Ghana's body politick.

Speaking about how he has been the butt of insults from the New Patriotic Party (NPP) since he took over the reins of power in 2012, Mr Mahama told party members at a rally in the Greater Accra Region that: "I'm not surprised."

"If you see what your enemy will do to themselves, then you can guess what they'll do to you when they get you," he observed.
"The other day, I received an audio recording on my WhatsApp, and I opened it and listened to it. Indeed, I felt so sad. I mean no cultured person should ever do what the woman, who was talking on that audio did – Auntie B or whatever her name is – insulting the former President of this country.

"I mean it's unacceptable, and I felt sad for President Kufuor, but then it also gave me courage because if they can insult President Kufuor like that, then as for me, they'll mash me up in earthenware," he said.

President Mahama wondered how the NPP, which will ride on the crest of wave of Mr Kufuor's achievements while he was in office, could rain insults on the same person on "whose track record you are going to run in 2016."