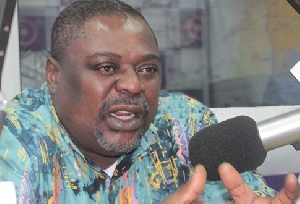 Deputy General Secretary of the ruling National Democratic Congress(NDC), Koku Anyidoho says the suspended National Chairman of the opposition New Patriotic Party(NPP) was ousted from office because he was not ready to be used as a conduit for public deception.
"I now understand why they removed Afoko. They wanted him to be organizing baseless Press Conferences and be peddling untruth about government- NPP has proven to Ghanaians that they always foist lies in the public domain without any shred of evidence to it, Anyidoho told sit-in-host Yaa Serwaa Akoto on Anopa Kasapa on Kasapa 102.3FM.

The biggest opposition NPP is claiming some journalists have been paid whopping sums of money by the John Mahama administration to keep their focus on the internal happenings of the NPP, as opposed to bad governance the people have been subjected to under the seven-year rule of the NDC government.

The acting Chairman of the NPP, Mr. Freddie Blay, made these comments at a press conference held at the NPP headquarters on Friday to denounce what it claimed "the State-sponsored attacks on the New Patriotic Party," in the wake of the dawn raid at the party's headquarters on Monday, November 23.

However, reacting to the issue on Kasapa 102.3 FM on Monday, the Deputy scribe of the NDC said the NPP has lost relevance as a formidable force to reckon with in the political landscape and hence has resorted to attacking others for its wrongs.
He claimed the NPP has degenerated to what he described as an "Akufo-Addo clan" rather than a traditional political party that can make an impact in politics, on account of the protracted confusions in the party.

"Now you dare not express your views freely within the NPP- there is no room for dissenting views and varied opinions in their fold; they are intolerant.

"Indiscipline has taken over the NPP, and Freddy Blay is part of the indiscipline that is deepening within the NPP-But while they are busily destroying their party we are out there working tirelessly and ensuring that what we promised Ghanaians are all fulfilled.

"Let them continue to destroy their party; more grease to their elbows."