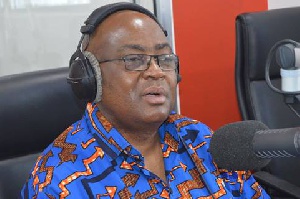 Pollster Ben Ephson has said the opposition New Patriotic Party's (NPP) gains made to clear the perception that NPP does not discriminate against non-akans has been defeated.
He explained that the party supporters voted for Paul Afoko as the Chairman to essentially build blocks in the party, and also discount claims by critics that the party does not accommodate northerners in the party.

Speaking in an interview with sit-in host Yaa Serwaa Akoto on Anopa Kasapa on Kasapa 102.3 FM, on the development so far in the NPP, Ephson said most people in the party are playing the ostrich on the perception that factionalism does not exist in the party.

"The NPP problems can be traced to factionalism," adding that the leader of the party, Nana Addo Dankwa Akufo-Addo had even conceded that but wondered why some people in the party are in denial of the divisions in the party.

He feared the NPP may suffer apathy in the lead up to the 2016 election since the current challenges in the party will end up bringing more cracks within the NPP.
"Maybe the NPP is planning for election 2020, one year down the line, and these things are happening – this will not help the party," he said.

The NPP last Friday, October 23, 2015, indefinitely suspended Mr. Afoko on grounds of misconduct when the National Executive Committee (NEC) of the party unanimously adopted a recommendation of the National Disciplinary Committee for such a directive.

Among the charges against the embattled chairman, is the fact that his conduct and style of leadership was problematic; he held irregular meetings and also took unilateral decisions which caused turmoil in the party.

Mr. Afoko has since been fighting back urging the public to dispel the decision of the NEC since their action was an affront to the party's constitution.