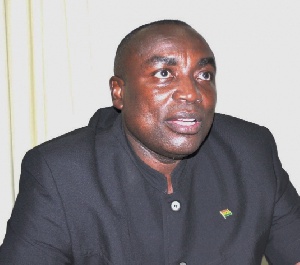 The Northern region communicators of the New Patriotic Party (NPP) have joined calls for the reinstatement of former General Secretary of the party, Kwabena Agyei Agyapong.
Mr. Agyapong, alongside other national officers of the NPP, was suspended indefinitely following a petition brought forth by some members of the party. The petitioners accused Mr Agyapong and the second vice chairman, Sammy Crabbe of undermining the party's authority.

They also accused the two former national officers of publicly denouncing the suspension of former national chairman, Paul Afoko.

Subsequently the decision by the disciplinary committee of the party to suspend the General Secretary was upheld by the National Executive Committee (NEC).

Mr Agyapong has since seized to act as General Secretary of the NPP.

But there have been incessant calls, in recent times, for the reinstatement of the "remorseful" elected General Secretary.

Some polling station executives in the Ashanti Region, some members of the party in the Brong Ahafo and Greater Accra regions have on separate occasions campaigned for the return of the suspended General Secretary.
They argue that Mr Agyapong has shown enough good faith to merit a reinstatement.

Adding their voices to the clarion call, communicators of the party in the northern region, at a press conference on Wednesday October 25, 2017, say "we hereby appeal to the National Council of our party to lift the suspension of the elected General Secretary Kwabena Agyei [Agyapong] and reinstate him as the General Secretary of our dear party."

They group says Mr Agyapong has demonstrated maturity and love for the party and contributed "materially" to the party's 2016 campaign in some constituencies in the three northern regions, Brong Ahafo and Ashanti regions.

The group expressed worry that the legitimate mandate handed Mr Agyapong at the Tamale congress in 2014 is being rendered null and void.

"As a party, we are acclaimed as believers in the rule of law and protectors of the rights of the vulnerable. As things stand now, it appears there is a deliberate attempt to run down the mandate that the delegates exercised so emphatically in Tamale in April, 2014. This [continuous suspension of Mr Agyapong] will make mockery of the congress process," the group averred.

Meanwhile, some members of the party have ruled out the possibility of a return of Mr Agyapong. The Ashanti regional chairman of the NPP Bernard Antwi Boasiako, popularly known as Chairman Wontumi has said Mr Agyapong has not shown enough remorse to be reinstated.