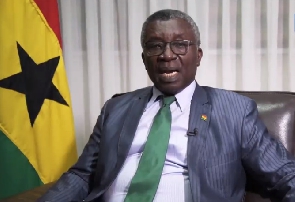 Professor Kwabena Frimpong-Boateng, has passed a vote of no confidence in the two major political parties in the country, stressing that either of them gives him hope going forward.
The ruling New Patriotic Party (NPP) led by President Nana Addo Dankwa Akufo-Addo, he said would find it difficult winning the 2024 general elections.

According to the celebrated neurosurgeon, the government's performance with a year to go has been under-whelming hence the difficulty he envisages at the polls.

"It will be difficult for the NPP to win the 2024 elections. It is a fact that they [the NPP] have over-promised and under-delivered but everything is possible but the NDC is also not giving me any hope," he said in an interview on Citi TV.

On the part of the opposition National Democratic Congress (NDC), he said the level of mismanagement he became privy to when the NPP came into power in 2017 showed that they did not merit ever having to come to power.

"When I was in government, I said the way the NDC had mismanaged the country, we were going to help the president and work so that the NPP would still be there even after forty years and there would be no romantic ideas about the NDC again and now look at where we are.
"I thought we were going to work and there would be no romantic ideas about Mahama and the NDC ever coming back," he stressed.

"There should be a change in the two political parties and how they do their things because there are very good people in the NDC same as the NPP," he further proposed.

The NDC has picked John Dramani Mahama as their candidate for the 2024 elections whiles the NPP are set to elect their candidate on November 4.

SARA

Click here to start the nomination process for the 2023 GhanaWeb Excellence Awards
Ghana's leading digital news platform, GhanaWeb, in conjunction with the Korle-Bu Teaching Hospital, is embarking on an aggressive campaign which is geared towards ensuring that parliament passes comprehensive legislation to guide organ harvesting, organ donation, and organ transplantation in the country.

Everyday People | This petty trader says she was once a backup singer for Daasebre Dwamena