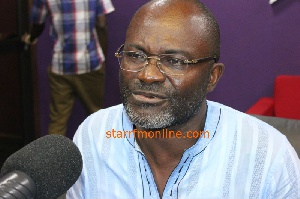 New Patriotic Party (NPP) firebrand, Kennedy Agyapong has descended on his party describing it as sick party with sick members which is working and pleasing elements of the opposition National Democratic Congress (NDC) to the neglect of its own members who toiled for it to come to power
On a Kumasi-based radio station in an interview MyNewsGh.com monitored, the outspoken lawmaker wondered why some persons who did little towards the electoral fortunes of the party are those benefitting while the masses in the party are yet to taste the fruit of their labour.

"NPP is sick and we are all sick because we give juicy contracts to our enemies who are members of the opposition National Democratic Congress (NDC) ….why will party members not complain they are not seeing anything", he quizzed.

He observed that the NDC is good at giving jobs to their own and are always quick to sack members of the NPP each time they are in power but the trend is different when the NPP takes over because they claim to be practicing democracy which is what is affecting its own members.

The Assin Central lawmaker disagreed with the 'book long' policy adopted by his party in running the country which is enriching its enemies while its own members suffer in hunger.
"NDC ruled this country for 8 years and one thing about them is that once you are not with them, they will sack you and replace you with their own. If you go to most departments, NDC persons are still heads because my party believe they understand democracy more than Britain which I personally believe it is unfair", he lashed at the NPP.

Continuing his concerns he added "those of us who supported NPP and were hated and victimized are still where we are even when our party is in power. People have sacrificed their lives and hated at their workplaces and sat on their promotions because of NPP. The same persons who victimized them are in comfort are still in a comfortable lead".

Mr. Agyapong reiterated that the NPP people are sick because they are busily paying NDC contractors while their own contractors are still struggling to be paid bemoaning the practice in the country and warned that it will cause the fall of the party if the trend is not immediately reversed.

"The rich contractors in this country are all NDC because we keep dealing with them and abandon our members", he stressed.