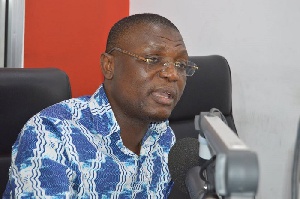 The National Democratic Congress(NDC) has condemned what it described as the agenda by opposition New Patriotic Party (NPP) to discredit state institutions who take stance on matters that do not favour the elephant family.
This comes on the back of publications Monday that the NPP shot down a report by the Commission on Human Rights and Administrative Justice (CHRAJ) seeking to clear President John Mahama of any wrongdoing in the infamous Ford vehicle gift scandal.

The NPP said the CHRAJ report was only a perfunctory investigation that sought to exonerate the president in view of the obvious flaws contained in the report.

But the Campaign Coordinator of the governing NDC, Kofi Adams said the NPP's strong stance against CHRAJ is one of such ploy aimed at whipping up public sentiments against public institutions without any basis.

He told Fiifi Banson on Anopa Kasapa on Kasapa 102.5 FM that the NPP has an agenda to destroy all state institutions in the country.

"NPP will want to reject everything in this country. They always fabricate issues and peddle untruths so they're capable of doing anything. Their flagbearer can fabricate that government has used a whopping amount of GHS 10,000,000 to print diaries, which was false. Nana Addo can go on international media to make false claims without a shred of evidence to substantiate it and this is the kind of people we're dealing with.
He continued: "The same happens in the case of Bawumia and the Statistical Service, when Bawumia is always seen making spurious analysis from data presented by the institution.

He said: " in any case, this is not the first time CHRAJ has carried out investigations on matters in this country. Anytime an institution brings out a report which goes against a petitioner they're aligned with, they will object to that."

CHRAJ's report cleared Mahama on the accusations of conflict of interest and corruption variously made against him by certain members of the public and the youth league of the CPP.

Even though CHRAJ in a 78-page report, indicted President Mahama, saying he violated the gift policy with regard to his decision to accept the vehicle, he was cleared of any bribery.

According to CHRAJ, it was satisfied that the gift in question formed part of gifts prohibited under the Gift Policy under the Code of Conduct and that although the evidence show that President Mahama subsequently surrendered the gift to the State, the action nonetheless contravened the gift policy.