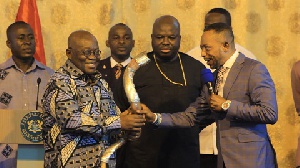 Rev. Isaac Owusu Bempah, founder of Glorious Word ministry International well known for controversial prophecies has likened Ghana's President Nana Addo Dankwa Akufo–Addo to the wise King Solomon and David in the bible.
The Prophet said this in response to criticisms about a 2018 prophecy he earlier made about the president's potential win of the 2020 general elections should he decide to present himself a second time.

This is not the only prophecy the man of God has made about the president. He also said Nana Addo was going to win the 2016 elections which came to pass.

Nevertheless, many have described his prophecy as a mere 'prediction' saying it was obvious he would win the race during the campaign.

"The prophecy depends on if only Nana Addo will contest for the race. Yes he is going to win again and if he should continue to live according to God's word. So far as the president lives in accordance with God's words and has his heart on the country, he is going to win and I know Nana Addo loves his country". Rev. Owusu Pempah carefully selected his words.

According to him, "Nana Addo will not depart from the love and care he has for Ghana no matter what".
Rev. Owusu Pempah said: "Truly I know Nana Addo believes in men of God that's why he said "the Battle is the Lord's".

In an interview with Hello Fm in Kumasi, the man of God claimed that every step the president has made so far indicates that, he is son of God'.

Proving his statement, Rev. Owusu Pempah said the president's idea of building a temple for the Lord is enough indication that he is truly God sent.

"Somebody like this has some potentials and attitudes of King Solomon. The president is just like Solomon and King David because he has respect for God". He said

The prophet in his interview categorically indicated that, he is not speaking for the president but he is just saying what he has witnessed so far.
On the other hand, many have criticized some prophesies of Rev Owusu Pempah saying he is a sympathizer of the ruling New Patriotic Party (NPP).

But he clearly pointed that, those comments and acts are surely coming from the opposition National Democratic Congress (NDC) and that he is not perturbed.