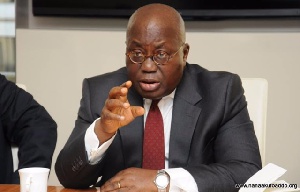 President Akufo-Addo has cut short his 10-day trip to Germany, USA, and India following the troubling trend of insecurity in the country.
YEN.com.gh has received a letter from the presidency which reveals that Nana Addo has summoned both the Minister of Interior and the Inspector General of Police (IGP) over the issue.

What this means is that the president, instead of returning to Ghana on March 5, will now be touching down at the Kotoka Airport on March 1.

So far, it remains unclear the discussion that would be had between both officials and the president but YEN.com.gh is gathering the closed-door meeting will be about how to stop the trend from happening and whether or not a military deployment will help complement the efforts of the police.

Checks by YEN.com.gh show that Ghana recorded close to 80 cases of armed in January 2018 alone as compared to 60 cases in 2017.

Armed robbery cases have been on the rise with a daylight robbery incident happening at an automobile company is one of the instances.
Earlier, a Lebanese man was shot dead shortly after he went to withdraw cash from Zenith Bank. An eyewitness narrated that the deceased's car was blocked by the armed gang who then shot him and bolted with an amount believed to be 200,000 cedis.

Although investigations into the robbery are underway as the police mount a man-hunt for all four armed robbers, some eyewitnesses who spoke on Joy FM claim that these robbers may have been tipped off by a worker of the company in which the Lebanese works.

Records by the Ghana Police Service reveal that the ratio of security officials to civilians currently stands at 1 policeman to 500 Ghanaians.

This troubling reality falls in sharp contrast with the success stories of various African countries who have a satisfactory of police per civilian ratio.

In Kenya for example, the police to population, according to africacheck.org stands at 1 police officer to 448 civilians while in Nigeria (the most populated country in Africa), the police to civilian population stands at 370,000 to about 170 million Nigerians.