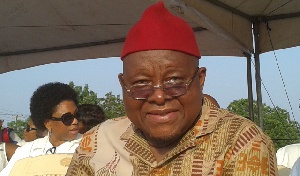 Chairman of Constitutional and Legal Affairs Committee of New Patriotic Party (NPP) Prof. Aaron Mike Oquaye has stated that the party will not drag its feet in suspending its Flagbearer Nana Addo Dankwa Akufo-Addo if he flouts laws governing the party.
He said Nana Addo will even be dealt with in accordance with the laws and principles of the party if he betrays the cause of the party.

'Anyone who flouts the party's constitution will be dealt with, you want to tell me that if the NPP has evidence not to trust the party's Flagbearer, and you see him betray our cause, because he is the Flagbearer he will not be disciplined, am telling you that, there are provisions in our constitution and the NPP is capable of disciplining the Flagbearer and we will do it in accordance with established laws and legal practices. A Flagbearer who misconducts himself will be disciplined,' the former Member of Parliament for Dome-Kwabenya explained.

Speaking on Ultimate breakfast show hosted by Lantam Papanko, he indicated that no member of the party is superior to the laws of the party.

The former Second Deputy Speaker of the Parliament emphasised that the party's law is no respecter of persons and that it will deal ruthlessly with anyone who flouts it.

According to him, the party has confidence in its Flagbearer who is committed to public service.
'His life is very committed to serving Ghana, the Asantehene Otumfuo Osei Tutu II gave him an accolade which people should note, he said this man worked for me several years without a charge, he defended Kume Preko people without a charge, most of these human rights abuse issues he jumped on their defense, he doesn't look at money. He looks at serving people, this is what we are majoring in,' he asserted.

He urged party members to abide by the tenets of the party and not to allow the ruling National Democratic Congress (NDC) to use them as a bait to infiltrate the ranks of the party.

Touching on the case of suspended National Chairman Paul Afoko, he said there is always the need for harmony when people are moving together but sometimes it's best if all military officers are not sent to the battle field which will bring disharmony.

'An army general will let one person wait so that they go and bring victory for everybody, rather than take somebody along, when that will rather bring disharmony,' he said.