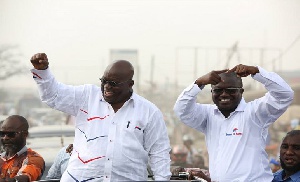 A member of the New Patriotic Party (NPP) Communications team Shaibu Sumila is calling on Ghanaians especially residents of the Northern region to exercise restraint as the President-elect Nana Addo works around the clock to solve poverty that has bedevilled them.
According to him, people in the North were heavily struck with poverty when the Mahama-led National Democratic Congress (NDC) government scrapped teachers and nurses' allowances.

Speaking on Abusua FM's Abusua Nkommo hosted by Kwame Adinkrah, he said people in the North were greatly affected by that government decision.

He observed that parents were unable to buy new cattle, goat, and guinea fowl to rear to pay their wards schools fees adding that students could not reimburse their allowances to their parents.

'Parents were selling their cattle to pay their children's school fees. Students/children in turn were giving their allowances to their parents to buy new cattle to rear till they are out of school or cater for their little siblings' school fees. Scrapping of the teachers and nurses allowances by NDC government affected people in the North, because students/children were unable to reimburse their allowances to their parents after they had paid their schools fees with sold cattle and guinea fowls,' he said.

The NPP Communicator underscored that people of Talensi in the Upper East region voted for Nana Addo during the December 7 polls due to his promise of restoring the scrapped allowances.
He explained that majority of the youth in the North migrate to the urban areas to seek greener pastures during the harmattan season to remit monies to their parents.

'There is nothing in the North after the raining season for indigenes. Nana Addo realised that during the dry season, people in the North are unable to work, so he promised to build one-village-one-dam across the country and the people voted for change. I know and I have hope that Nana Ado will restore the allowances to relieve Northerners of poverty, and if its done, that will be the end of NDC,' he said.

He indicated that there was no way Northeners would have bought the idea of being influenced with localy brewed drink 'pito, akpeteshie', maggie or salt to win their votes.

Sumila said NDC members were deceived by the numbers during their rallies.