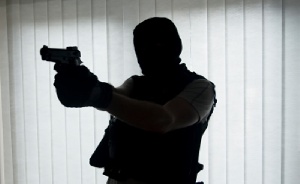 Seven suspected highway robbers have been arrested by a team of National Security operatives at Ekye-Amanfrom in the Kwahu Affram Plains South District of the Eastern Region.
The suspects are Omaro Mohammed ,50,Fuseni Iddrisu, 45 ,Omaro Abubakari , 30,Ali Abubakari, 20, Shajo Ahmedu , 41, Namata Aliu ,33.and Manu Luwa, 23

The suspects ,all Fulani herders, are believe to be behind the armed robbery menace in the Affram Plains enclave.

The special operations carried out by the National Security on September 10,2018 was led by DSP Samuel Azugu of National Security SWAT.

According to the Public Relations Officer of the Eastern Regional Police Command, DSP Ebenezer Tetteh, the suspects have been handed over to the Nkawkaw Divisional Police Command for further investigations and prosecution.

The arrest follows agitation by residents in the area over incessant highway robbery in the area. Drivers of Kwahu Tafo,last week staged a protest against high spate of highway robbery attacks.
Residents of Affram Plains in the Eastern region recently called on the Inspector General of Police, David Asante Apeatu, to transfer some Police personnel in the area for allegedly aiding and abetting highway robberies.

The call resurfaced following a similar one in 2016 which sparked violent attacks on the Donkokrom Police station after two Police Personnel who were arrested for robbing a bullion van escaped.

The Police station was torched while some 20 irate youth suffered varied degree of injuries including gunshot wounds.

The recent call by the residents has been necessitated by the increasing spate of highway robberies in the area which according to them is having negative impact on socio-economic activities .

The Affram Plains is one of the food basket areas of the country producing varied food crops, fish, livestock among others hence attracts many traders from across the country.
The robbers appear to have taken advantage of the brisk nature of business activities in the area and attacking traders on frequent basis.

"This area was not known for this kind of armed robbery but for the past three years, our market women are attacked almost every market day. So we want Soldiers on our road or the Police in this area replaced because they connive with the armed robbers," Nana Kakari Ansong, Gyaasehene of Pitiku told Starr News Eastern Regional Correspondent, Kojo Ansah who visited the area.

According to the residents, the robbers inhumanely attacked a patient on referral to hospital while Prison officers transporting inmate from ForiFori Prison Camp to Nsawam were also robbed taking away the Uniform of a Prison officer and other accoutrements.

The Queenmother of ForiFori community ,Nana Yaa Serwaa, who has suffered two robbery attacks with her daughter and loss a total of Ghc6,700 alleged some Police Personnel are involved in the robbery.