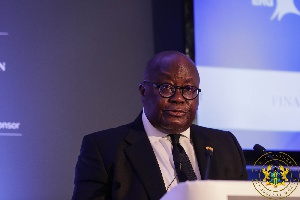 President Nana Addo Dankwas Akufo-Addo has disclosed to the leadership of the New Patriotic Party (NPP) that he would maintain Dr. Mahamudu Bawumia as vice-presidential candidate, General Secretary John Boadu has announced.
Mr. Boadu told host of Frontline Kwabena Agyapong on Rainbow Radio 87.5Fm that when the party's leadership deliberate on the choice of the president and accepts it, Dr. Bawumia would be maintained.

"The president has indicated to the National Council he would want to maintain Dr. Bawumia as vice-presidential candidate. The leadership will meet and deliberate on it. After the council accept the decision by the president, we will have our presidential and vice-presidential candidates."

He explained the party would have gone for a national congress for over 200,000 delegates to converge and accept his candidacy if not for the outbreak of the coronavirus.
He said the party has waived the article that allows them to go to congress and will on June 27, 2020, hold an acclamation and declare President Akufo-Addo as candidate and Dr. Bawumia as his running mate.

President Akufo-Addo is the only candidate who filed to contest the Party's presidential primary at the close of nominations, on February 20, 2020.

Mr John Boadu, said the acclamation would take place at a special National Council meeting in Accra, with relevant stakeholders in attendance.