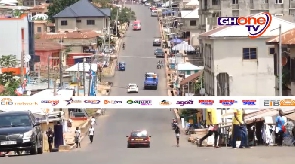 The Chief Executive Officer of the Ghana Chamber of Construction and Industry, Emmanuel Cherry, fears that the newly constructed roads in Kumawu in the Ashanti Region may soon deteriorate.
Government few weeks to the Kumawu by-election started constructing asphalt roads in that constituency, a move that some residents believed was intended to get them to vote for the ruling party's Parliamentary candidate.

But the Minister of Roads, Kwasi Amoako-Atta insisted the construction of the roads formed part of the government's plan.

Speaking to Starr FM, Emmanuel Cherry said the haste in which contractors were mobilized could possibly affect the quality of work done.
"If you talk of a contractor, as we say there are bad nuts everywhere but the good nuts among us are more than the bad nuts. So I can't hold brief for everybody. But to me with where we stand, we see a lot of good contractors working. But the issue before as for instance…as we saw with the by-election in Kumawu, overnight, contractors are on site working, what are the dynamics… it is not planned. So definitely after that construction within a few months, you go back to that work you see that it has started cracks and what have you because it is not properly planned.

"So if you come to me as a contractor, you say I should do this for you, I advise you professionally, you say you're not going to follow accordingly and you still insist, I will give you what you put on paper for me. The contractors, their simple job is to interpret what is on the paper which is supervised by a consultant. So if you don't give us proper drawings we'll give you whatsoever we have in there. So don't blame us for it."