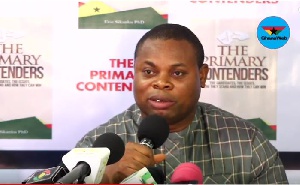 Founding President of policy think tank IMANI is questioning the Rationale behind what he calls a "waste" of public funds on the new regions' referendum, MyNewsGh.com has filed.
So far, the Referendum has been entirely peaceful with Vice President Dr Bawumia and former President Mahama voting in their respective regions. Traditional rulers have cast curses on anyone who seeks to stand between them and their quest for a new region.

But Franklin Cudjoe is asking: "Of what use is a referendum to demarcate borders when majority of those who want a particular outcome are the ones to vote?SMH"
He added further, "Doesn't it occur to those waving the constitution in our faces, as the source of the narrow view that only those areas that asked for a region to be carved out of existing ones should be the only ones allowed to vote for their own request, an attestation that we were better off not organising a referemdum and waste public funds?"

"Some will argue the threshold for a YES vote is high. Perhaps, but from what I see, that high threshold will be met anyways as the geographical confines for the vote as determined by the constitution is narrow. Once again, if it is the only trajectory for determining an outcome like this, there shouldn't have been a vote in the first place?" He asked.