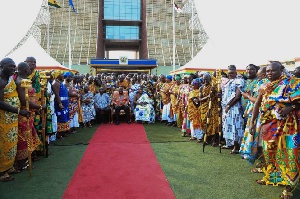 The President of the Western Regional House of Chiefs Ogyeahoho Yaw Gyebi says the creation of new regions and the corresponding capital towns will not automatically inure to the benefit of the ruling New Patriotic Party (NPP) in the next polls.
Speaking to Empire Fm and Radio 360 in Takoradi Saturday, the Chief said : "People making those claims have not done their analysis. When Kufuor was in power, he created so many districts, did he benefit from it? decentralization and breaking down larger areas bring development to people and that should be the focus.

" At first the whole of Sekondi Takoradi had one municipality but when we split it further, notice the development it has brought to us. So when someone comes to office and has to do something, let's not be quick to say he is seeking to gain political advantage, but of course if people are happy for what he has done for them, then they can express it that way," he said.

Ogyeahoho whose Paramountcy falls within the newly created Western North revealed that he is preparing to hand over as soon as practicable as the President of the House of Chiefs as he is practically no more a member of the Western Regional House of Chiefs.
Six Paramountcies make up the newly created Western North Region presently namely Anhweaso, Chirano, Bekwai, Wiawso, Enchi and Dadieso.