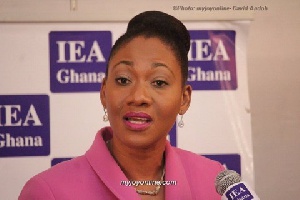 The Electoral Commission (EC) of Ghana has exonerated its officials of any wrongdoing in the referenda held for the creation of the six new regions following internal investigations concerning complaints about voter malpractices and election rigging.
The referenda were held on 27 December 2018.

Some videos were captured during the process in which an alleged EC official was seen involved in ballot box stuffing. Other videos circulating on social media also captured a gentleman engaged in questionable behaviour.

However, the EC said it found no violations by its staff and has further referred the matter to the Ghana Police Service for further investigation.

At a press conference on Tuesday, 16 April 2019, Deputy Commissioner (Operations) of the EC, Samuel Tetteh, stated that: "We actually didn't see anything wrong on the side of our officials".

He pointed out that if the police "actually give us a report which indicates that our officials did something wrong, then it is up to the Commission to take action against them".

Explaining further, the Chairperson of the EC, Mrs Jean Mensa, said one of the videos has a young man sitting behind a table and doing some multiple thumb-printing but their investigations revealed that a closer look at the video shows that "you don't see the referendum colours [on the ballot papers]. Again, on that same table, you see the ballot [papers] with the old logo. So, we are saying this definitely could not have happened at this referendum".
On one other video concerning a gentleman with his back to the camera, Mrs Mensa noted that: "When the gentleman was questioned, he said he did it in excitement and he had somebody take the video of him casting his vote".



She added that the gentleman had no ballot paper before him but "you just see his hand movement and see his back with the hand movement".

Mrs Mensa said the regional directors of the EC probed the matter and they indicated that the gentleman lives in the community where the referendum was held "and, so, we have made that report to the police".

She added that: "You do not see that he has multiple ballots voting and, so, what we are led to believe is that he said he did take that video and it was technology that he used to create that action over and over again and that is what has come out of our findings".