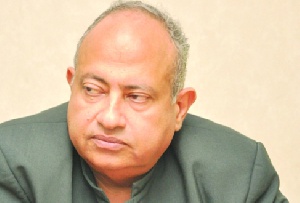 Son of the first President Osagyefo Dr Kwame Nkrumah, Dr Onzy Nathan Kwame Nkrumah has revealed candidly that his late dad will be horrified to see the Airport named after Emmanuel Kwasi Kotoka.
Late Lt. General Emmanuel Kwasi Kotoka happens to be the first coup maker in Ghana whose National Liberation Council (NLM) overthrew Dr. Kwame Nkrumah on February 24, 1966.

Subsequently, he was killed a year after the coup at the forecourt of the country's Airport, which informed the naming of the national airport after him.

There have been many agitations against the naming of the Airport after a man with such history. Those behind the agitations believe the airport should rather be named after Ghana's first president, Dr. Kwame Nkrumah.

Latest to add his voice to those agitations is Dr. Nkrumah's son, Dr Onzy Nathan Nkrumah.
Speaking to Odifour Kwabena Aware, host of "Nyasem Hwe" educative show on Hot 93.9 FM in Accra, Dr Onzy Nkrumah indicated that his father will be extremely horrified to see the Airport named after Kotoka:

"My brother Odifour, naming the airport after Kotoka is very appalling. Kotoka was a thief, traitor and a venom. I don't think my father will be impressed at all. In fact, he will be horrified to see the airport named after Kotoka. Apparently, my dad should've been named after the Airport looking at his ideologies and legacy," Onzy told Odifour with much passion.

Dr Onzy added that his father's ideology never dies. He advised that his father's legacy be implemented to help make Ghana a super power nation.