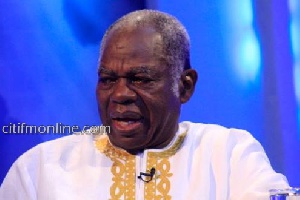 The presidential candidate of the People's National Convention (PNC), Dr. Edward Nasigre Mahama, has issued a strong indication that civil disquiet will not cease in Ghana until the citizens cease to be a barrier themselves to a move he says God began in 1996.
Dr. Mahama, who is in his fifth run at 71 for the presidency, said three political leaders- Jerry John Rawlings, John Agyekum Kufuor and himself- emerged two decades ago as a complete set of messiahs sent to crack the country's socio-economic problems in turns.

He said even though Ghanaians allowed both Rawlings and Kufuor their turns to lead the country, the unending denial of his turn to also manage the affairs of the country had been responsible especially for the anxieties and violence often experienced every election year in Ghana. The presidential nominee likened Ghana to a shaky pot sitting on a two-legged tripod and pointed at himself as the 'missing third leg' assigned to ensure balance by completing what his forerunners started.

Dr. Mahama was speaking at the party's manifesto launch held Wednesday in Bolgatanga, Upper East regional capital.

"You know why every election time there is anxiety about peace and violence? The reason is that when God made that decision in 1996, he was telling us that when you cook soup or whatever, you need to put your pot on three stones. We call it tripod. And you have two stones. You have JJ Rawlings, one stone; J.A Kufuor, one stone. That's two stones. Edward Nasigre Mahama is the third stone. If you don't put me there, your pot cannot sit well," he declared.

Party supporters, outfitted in white shirts branded on the chest with portraits of the party's flagbearer and parliamentary candidates and emblazoned on the back with the coconut tree, peppered the launch with raucous ovation and a theatre of music and dance.
"1996, we were three candidates- JJ Rawlings, J.A Kufuor, Edward Nasigre Mahama. '96, Ghanaians said, 'You've just come from America; be patient; we'll give it to JJ'. I was patient. You gave it to him. 2000, you said, 'Kufuor has been struggling for this position since 1969 with the Busia Administration; be patient'. I was patient. Now, it's 20 years. It's my turn. Of the three of us, two have gotten it. If you are thinking of parties, it's NDC, NPP [and] PNC. NDC and NPP have gotten their share for 24 years. You've tried the rest. Now, try the best," Dr. Mahama challenged.

The Big Six endorsed me from their graves

Dr. Mahama also made a sorcerous interpretation of his sixth position on the ballot paper for the 2016 polls, saying the spot only implied that Ghana's six founding fathers- Dr. Kwame Nkrumah, Ebenezer Ako-Adjei, Edward Akufo-Addo, Joseph Boakye Danquah, Emmanuel Obetsebi-Lamptey and William Ofori Atta- had approved his candidature from their graves.

"As you go home, tell your husbands, wives, brothers, sisters that it is my turn and the Big Six have confirmed it by giving me the number 6 from their graves. They have endorsed my candidature. Dr. Kwame Nkrumah got us independence 6th March, 1957. That was political independence. Economically, we are still dependent. I have got the number 6, telling you that Edward Nasigre Mahama is going to bring economic independence to Ghana and Africa.

"Those of you who are religious and know a little bit about God, you know that in 6 days God created everything that he created. On the seventh day he rested. I have been put on number 6 as a sign of completion. God completed creating everything he created on the sixth day. I have the number 6. That is the end of your problems in Ghana," he proclaimed.
The presidential candidate also unleashed some biting remarks about the country's educational infrastructure, saying it was unthinkable that some learning institutions were still located under trees about 60 years since the country gained independence from colonial rule.

"Sixty years after independence, we still have schools under trees. In the four years that you'll give me, I'm promising you, no school will be under tree. Even on arrival here, I got to know that the school feeding, some of the secondary schools didn't get their subvention.

"So, effectively, instead of three months in the term, they have been in school for only about one month. How are they going to learn if they don't eat? Basically, the mismanagement in the country is mindboggling. And I'm promising Ghanaians that the discipline that you need to lead this country, Edward Nasigre Mahama has it," he assured and officially introduced the party's parliamentary candidates to the crowd at the Jubilee Park.

Dr. Mahama could be the next Trump – Mornah

The party's National Chairman, Bernard Mornah, issued a strong word to those who considered the PNC as a dark horse in the presidential race, citing as an example Donald Trump who, despite an overwhelming scale of opposition against his candidature, still won the recent presidential election in the United States of America.
"I rally all PNC members to eschew the pettiness, the wrangling, and to forge ahead to see that Dr. Edward Mahama is the next president. If you doubt that Dr. Edward Mahama will be the next president, watch the United States of America where against all the odds, including internal party fight against Donald Trump, he emerged the people's choice. The Electoral Commission cannot frustrate the people of Ghana from making a choice and I am convinced that Edward Mahama is the next choice for Ghana," Mr. Mornah affirmed.

He added: "We are a determined group of people whose indomitable spirit cannot be dimmed even by the greatest frustrations and might of those who are in authority. Let them be assured that, of the 24 years of misrule imposed on us by the NDC and the NPP, the PNC wants to bring about sanity in the Ghanaian political landscape and Edward Mahama will lead that."

Manifesto highlights

The party's 55-paged manifesto booklet has on its front cover the inscription: "New Beginning! New Deal!! New Force!!!"

edward-mahama
It highlights the party's plans in some key areas including housing, health delivery system, public transport, human resource development, corruption, sports and fitness, industrialisation, oil and gas, vulnerable social groups and social welfare, governance and security, education, environment and sustainable development, job creation as well as agriculture among others. Copies of the manifesto were shared at the ground among the crowd of supporters, observers and the press.

"Only the PNC has shared copies of its manifesto to people in hard copies like this," said a supporter, Johnson Ayine, as he rubbed the texture of a copy and felt its weight with satisfaction. "The other parties only launched their own and asked people to download copies from the internet."

Dr. Mahama got 3% (214, 373) of the votes cast in 1996 when he contested Rawlings of the National Democratic Congress (NDC) who polled 4,101,674 (57.40%) votes and Kufuor of the New Patriotic Party (NPP) who obtained 2,829, 726 (39.60%) ballots.

In the year 2000, he attracted 189,659 (2.50%) votes. NPP's Kufuor garnered 3,131,739 (48.40%) with John Evans Atta Mills gaining 2,895,575 (44.80%) votes, George Hagan of the Convention People's Party (CPP) 115, 641 (1.80%), Augustus Goosie Tanoh of the National Reform Party (NRP) clinching 78,629 (1.10%), Daniel Augustus Lartey of the Great Consolidated Popular Party (GCPP) 67,504 (1.00%) and Charles Wereko-Brobby, who stood for the United Ghana Movement (UGM), got 22, 123 (0.30%).

Edward Mahama secured 165, 375 (1.92%) at the 2004 polls that gave Kufuor 4,524,074 (52.45%), Mills 3,850,368 (44.64%) and CPP's George Aggudey 85,968 (1.00%) votes. In 2008, Dr. Mahama annexed 73,618 (0.86%). Nana Addo Dankwa Akufo-Addo, representing the NPP, polled 4,204,073 (49.32%), NDC's Mills secured 4,070,889 (47.76%), CPP's Papa Kwesi Nduom 112,673 (1.32%), Emmanuel Ansah-Antwi of the Democratic Freedom Party (DFP) 28,471 (0.33%), Kwesi Amoafo-Yeboah (an independent candidate) 19,178 (0.22%), Thomas Nuako Ward-Brew of the Democratic People's Party (DPP) 8,367 (0.10%) and Kwabena Adjei, representing the Reformed Patriotic Democrats (RPD), captured 6,443 (0.08%) votes. Dr. Mahama lost what would have been his 5th bid for the PNC presidential candidature to Hassan Ayariga in 2011.