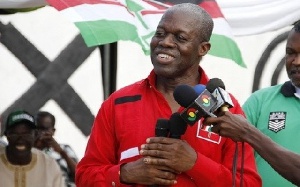 Matilda Amissah-Arthur, wife of late Vice President, Paa Kwesi Amissah-Arthur has celebrated her husband as a scandal-free person during his years in public service.
Mrs. Amissah-Arthur said she was thankful to God for her husband's integrity because despite the many criticism he faced, issues of him having engaged in any act of corruption does not exist.

That situation, she affirmed had allowed her enough leverage to go on with her life with in a dignified manner.

"...for six years (he) was Governor of the Central Bank; for five years, he was the Vice President, while he did all those jobs nobody impugned any corrupt thing to his name, even in his death, nobody," she said in an interview on JoyNews.

"Am I not lucky? Thank you, Lord. I hold my head up, I can go anywhere, I go to NPP, NDC and CPP functions, and I hold my head up because there is nothing," she added.

The trained educationist said she currently lives a comfortable life because like her husband, she is living a diligent life and staying off any acts of corruption.
"Nobody can impute any corrupt thing against me. If you give me work, I do it well, and that is all we are all supposed to do. We are all supposed to work well to uplift the country.

"Ghana is ours and nobody's. If in our corners, we do our work well, and we are truthful, then we will go very far and stop this bickering,' she added.

The late Vice President was an economist, academic and politician who was the fifth Vice-President of Ghana's 4th Republic, in office from 6 August 2012 until 7 January 2017, under President John Dramani Mahama. Previously he was Governor of the Bank of Ghana from 2009 to 2012.

He was born in April 1951 and passed on in June 2018.

You can also watch this episode of People & Places here:




Watch the latest episode of Everyday People on GhanaWeb TV below:




You can also watch this feature on climate change and its impact on fish and sea life:





Share your news stories and ideas with GhanaWeb


To advertise with GhanaWeb




SARA