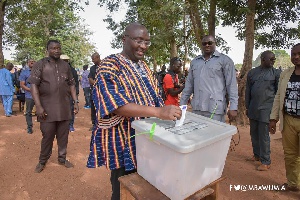 Vice-President Dr Mahamudu Bawumia has voted in the ongoing referendum for the creation of the proposed North East Region in the Northern Region.
Dr Bawumia cast his ballot at the Kperiga Presbyterian Junior High School "A" polling station where he voted during the 2016 presidential and parliamentary polls in the Walewale Constituency.

The vice-president, on Tuesday, joined some chiefs in Nalerigu during a durbar, as part of efforts to campaign for YES votes for the creation of the new region.

At the durbar, he reiterated the need for the people to vote massively in favour of the creation of the region, adding that the referendum was a "historic" one, which would impact future generations in a positive way.

Apart from the North East region, five other proposed ones in different parts of the country, are also being voted on today. They include Oti, Savannah, Ahafo, Bono East and Western North.
Dr Bawumia implored the electorate in all the six proposed regions across the country to turn up early to cast their ballot since, he stressed, the level of the turnout is critical to the outcome of the referendum.

The affected areas in the Mamprugu enclave include the West Mamprusi municipality, Yagaba/Kubore district, Gambaga/Nalerigu district, Yunyoo/Nasuan district, Bunkprugu district and the controversial Chereponi district.