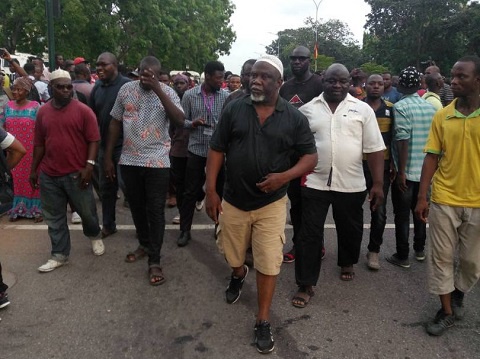 Wed, 28 Mar 2018 Source: mynewsgh.com
National Democratic Congress (NDC) Northern Regional Chairman has landed in Accra for the intended demonstration over the US-Ghana Military deal, and his first point of call, is the Criminal Investigations Department (CID) Headquarters where Mr Koku Ayidoho is being held allegedly over 'a civil coup' plot.
Police CID consequently arrested Mr Koku Ayidoho and have searched his house.

Mr Johnson Asiedu Nketia has described the arrest of his deputy allegedly for making 'treasonable comments' as a blessing in disguise in the light of the demonstration they are organizing tomorrow.

He said Koku Ayidoho "is fine and great" and the arrest is "much ado about nothing"

Mr Koku Ayidoho reportedly said the history of Akufo-Addo's father's deposition in a coup d'état will repeat itself on Accra-based Happy FM.

"On January 13, 1972 a certain Col. Ignatius Kutu Acheampong led a movement that removed the Progress Party from power. Busia was the Prime Minister and Akufo-Addo's father was a ceremonial president. Somebody should tell Nana Akufo-Addo that history has a very interesting way of repeating itself." Koku said.

"There'll be a civil revolt. There'll be a people's movement. During President John Mahama's tenure didn't we receive similar threats from the likes of Let My Vote Count and OccupyGhana," Koku said on Happy FM.