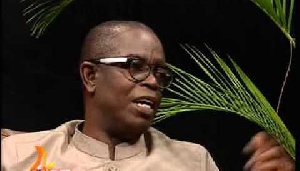 The Managing Editor of the Insight Newspaper, Kwesi Pratt Jnr has said he has strong believe that not all the 23 Presidential aspirants will be able to pay for their nominations fees for the upcoming December 7 election.
The Electoral Commission (EC), has confirmed that 23 presidential nomination forms have so far been picked up ahead of the December poll. Sixteen (16) of the forms have been picked up by political parties, whilst the seven others were picked up by independent candidates.

The Commission has set the filing fee for Presidential nomination at GHC 50,000, a decision that has seen the EC come under heavy bashing as many of the political parties have described the amount as exorbitant.

Nominations which opened on Tuesday September 13, 2016, ends today (September 28) and Thursday September 29.
But speaking on Peace FM Tuesday, Kwesi Pratt Jnr who has described the filing fee as unacceptable stated that there's no way Ghana will have 23 people contesting for the highest office of the land after close of nominations, adding that not all the aspirants are financially sound to be able to pay the high filing fees.

"I hear 23 people have picked up nomination forms, at the end of day let's see how many of them can file, and who cannot file. I bet you, not all of them can pay this hefty filing fee. Even some will have difficulties with signatures on the forms. To be able to fill correctly that form is no mean a small feat, why was the NDP not able to complete the filling of Nana Konadu's nomination form, some definitely will not be able to sail through. But I'm not bothered if not all of them are able to do so."